Summer's almost over, but it ain't over yet! While the sun is shining and we can enjoy the glow, why not rock a pop of color on your mani? Show off the grabberz from a mile away. We know that everyone's summer go-to is white; it's clean, it's neat, it's a classic. However, if you're into a little razzle dazzle and something that has people gasping and complimenting you at the same time, please get into these colors/styles we like to call Hot Girl Nails.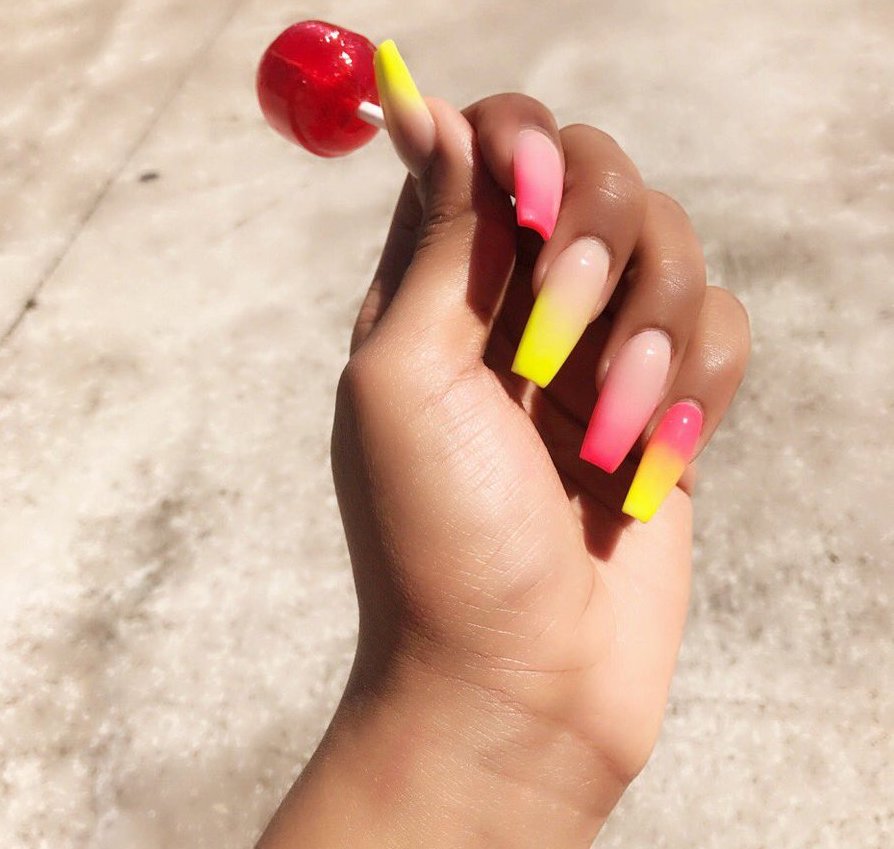 Yellow – This is the official color that women of color need and should embrace. Marigold/mango yellow or even pastel yellow, it is still the perfect hue for women of color. It is the right amount of pigment that blends so well with melanated skin.
Neon – Blind Me Baby! Neon colors are THE colors for the summer. Think about it, the sun is out and your nails are just as bright. You can keep it simple with one solid color, mix it up with several, have a flames design, there are so many options.
Rainbow/Skittles – We don't know who said that your nail set had to be one and only color, which is why we're so happy to see sets with multiple colors with or without a set pattern. Dark colors, bright colors, it doesn't matter; mix it up!
Ombre – Everyone has had a french manicure before. They are traditional, polished and elegant. The trend of ombre nails has added some color and pizazz to your normal french manicure. This is such a unique trend in nail art.
Glitter Tips – As we've already said, the traditional french manicure has been updated honey! If you are a french-style lover, why not add a little sparkle and replace that classic white with some glitter, actually any glitter of your choice. It's posh but Hot Girl approved.
So get into these trends ladies, you're sure to love them all!
(featured image : Megan Thee Stallion nails via Popsugar)