What a year. (That's it, that's the thought of the year.) 2020 has been an uncanny experience for all of us and we are in the final stretch [depending on when you post, alternate version: fresh in a New Year and ready to take it head on.] Yes, we're all about nails here at NAILCON, but we're also here for unconditional love, positivity and the importance of self care. There are so many things we can do for ourselves that affect our minds positively. Everyday doesn't have to be a self care day, but you know, if you need to do that, that is fine as well! Take care of YOU. To end [or bring in] the [new] year, we've created our very first #NailBoard, which features colors that you can get at your next appointment that radiate positive energy every time you look at your nails.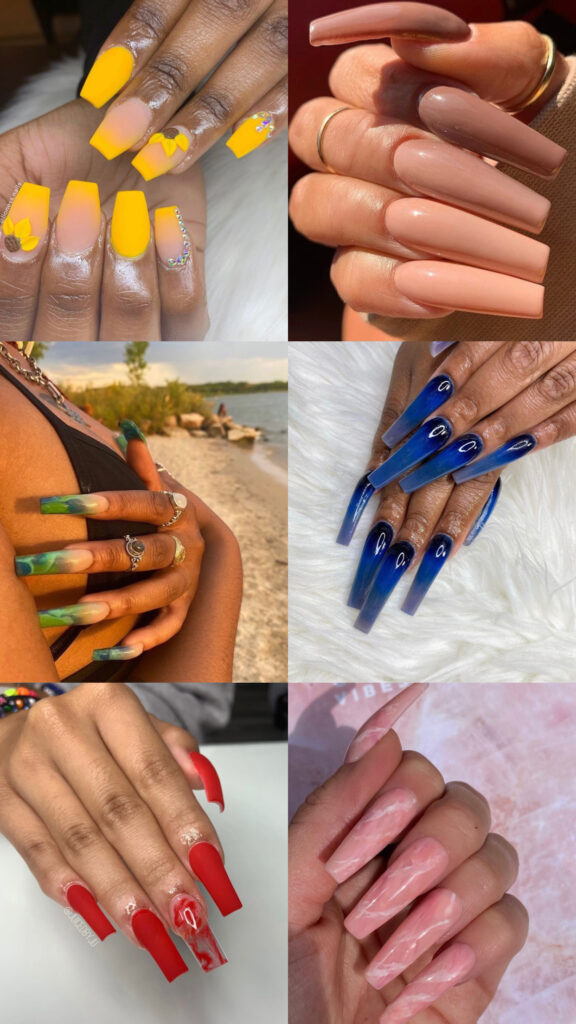 Yellow – The universal color of happiness; yellow can make anyone feel alive. It is the epitome of cheerfulness and sparking feelings of happiness. Any form of the color radiates these qualities. (Bold, bright and pastels.)
Red – Full of passion. Yes, it is the color of love, but it is also known to increase one's heart rate and naturally excites people. A warm shade of red would be ideal, rather than a super bright tone, however bright tones are known for energy boosting,
Pink – It's a girly color, because it symbolizes feminity. This is the color of sensitivity and tenderness. Women are natural nurturers and this color beams that unconsciously.
Blue – Cool and crisp. This is considered a calm color that has restorative qualities; secureness and spirituality. Pastel blues and calm clear blues are ideal, it can even improve rest. (We all struggled this year with sleeping patterns.)
Green – Recharge. This color oozes with positive energy and can stimulate personal growth. Bright greens, but not neons are ideal for a set to keep you charged and refreshed all day; it is also known to bring out the optimist in you.
Neutrals – Calm colors; the less, the more calm. The perfect contrast for minimal self care.